The 3MT final
Was held on 23 June 2021 at the Charles Sturt University Riverina Playhouse in Wagga Wagga.
3MT Competition Final Winners:
Congratulations to all the contestants (see listing below photo) and especially to the award winners:
Winner: Mark Layson (School of Theology)
Runner-Up: Borkwei Ed Nignpense (School of Biomedical Science)
People's Choice: Van Tan (School of Teacher Education)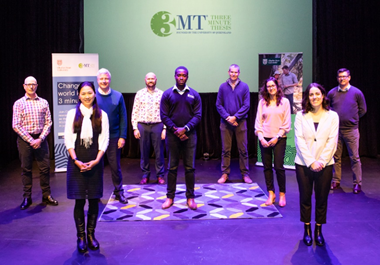 (Left to right: Matt Cahill (judge), Van Tran (contestant), John Edwards (contestant), Pieter-Willem Hendriks (contestant), Borkwei Ed Nignpense (contestant), Mark Layson (contestant), Marta Hernandez-Jover (judge), Megan Porter (contestant), Michael Beer (judge).

Each winner was awarded a financial prize of $1,000, $750 and $500 respectively, which they can use towards their research project. The winner, Mark will now represent Charles Sturt at the Asia Pacific 3MT final, which will be held in late October.
The final was recorded and can be accessed via the recording link.
Our winner Mark Layson shares a bit about his 3MT Journey:
The thought of competing in the 3MT can bring out in the open the largest fear most Australians have; public speaking. However, that fear might limit you from a great learning experience, and a real boost to your research. The research team does a fantastic job of calming those fears, encouraging and supporting anyone who takes that step to register. Several workshops with established actors and speakers along the way helped me re-think my project from the ground up. This allowed me to condense what will be over 80,000 words into only 400 words that almost anyone can understand! Going through this process helped distill in my mind again exactly what I am researching and how to communicate that clearly to people who have no knowledge of my field. That is a benefit in lots of ways. Now when a friend asks, "what is your PhD about?" I have some great summary sentences that I now reuse and know they will grasp. Those phrases also find their way into applications for courses, funding and conference abstracts submissions. Plus I got a CSU hoodie for competing! The experience of the 3MT competition has been one of the highlights of my PhD research so far and I recommend it to anyone to have a go at.
Mark Layson, CSU 3MT Finals winner 2021
The curtain opens…
Enter the call for 2021 Charles Sturt University 3-Minute Thesis (3MT) entrants end February. CSU advertises the 3MT competition, the training, and the upcoming Heats run as part of DocFest21! Over 30 entrants register across all faculties for 3MT and get ready for the drama ahead.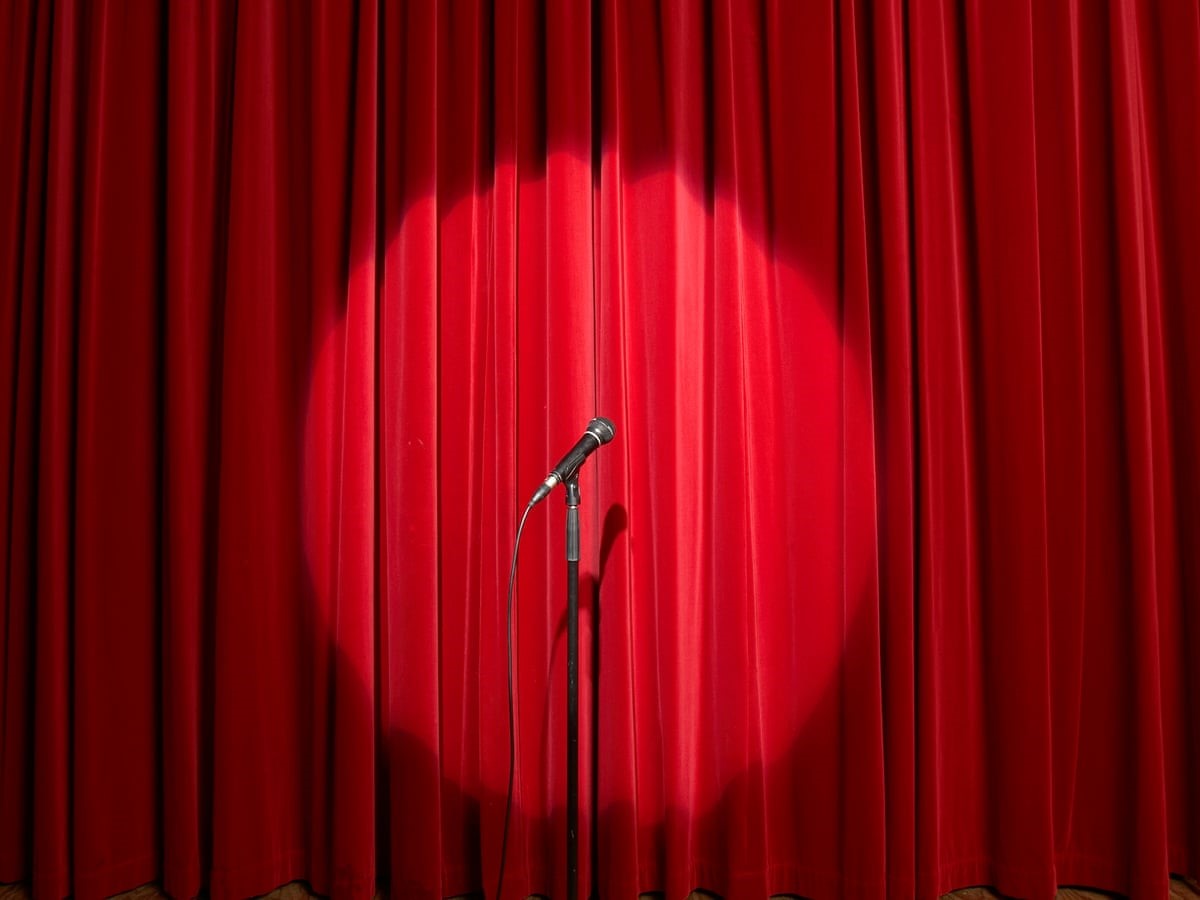 Act 1: The training
Enter stage right…
In March, the entrants join the initial 3MT information sessions advertised by the CSU Research PD team. This includes a panel of past 3MT winners to share their experiences of preparing for and participating in 3MT.
In April, entrants register for the Training Café program facilitated by Dr Emmaline Lear and Dr Peter Copeman. This offers the opportunity to get out of academic mode and embrace their inner storyteller and absorb some basic performance craft.
Peter was a special addition to the training program this year, and he brings his understanding of drama as a theatre director, playwright and vocal coach to hone the entrant's pitching skills.
Exist stage right!
Act 2: The Heats
Enter stage left…
Two 3MT Heats are run during DocFest21! via zoom 26 and 27 May. This is an event celebrating over three months of hard work and training to prepare for the 3-minute pitches. The Heats are an excellent showcase of the great research happening across the University. The participants translate their thesis from 80,000 words into a 3-minute research story for a lay audience using only one PowerPoint slide. What a task!
18 pitches over two days highlight research innovation in education, medicine, vet and marine science, medical and health science, economics, business & entrepreneurship, and more! Their research topics range from mental health issues, corporate strategy linking to sales performance, conflict zone journalism, dung beetles, parasites and improving breads and meats, to name just a few.
The judges are there too! And wow, do they have a hard job in choosing the eight finalists from both the Heats. After much deliberation it is decided.
Exit stage right!
Act 3: The Finals
The curtain rises…
CSU looks forward to welcoming the finalists to Wagga on 23 June 2021 1.00pm - 3.00pm at the Charles Sturt University Riverina Playhouse.
A warm congratulations to all the participants in this year's 3MT competition… And very best wishes to all our finalists... The winner of the 3MT Final will go on to represent Charles Sturt University at the Asia-Pacific final, which is held in October 2021.
Heat 1 winners:
Claudia Macleay (Sci) for Learning from the past to predict the future
Pieter-Willem Hendriks (Sci) for Wheat that outcompetes its weeds
Megan Porter (Sci) for Parasites - the winners in a changing environment?
Borkwei Ed Nignpense (Sci) for Let's get cereal about polyphenols
Heat 2 winners:
Jessica Houston (Sci) for How do young people in regional and rural New South Wales, Australia access mental health systems and what are the implications of this?
John Edwards (BJBS) for Linking Sales Performance to Strategy-Making Process, Corporate Entrepreneurship Climate, and Entrepreneurial Sales Actions.
Mark Layson (BJBS) for It's not about the trauma: A new perspective on First Responder wellbeing
Van Tran (A&E) for Imagine losing your heart language
Curtain falls. The entrants go backstage to refine their pitches. We wait in anticipation to see who the CSU Final's winner will be.
We look forward to seeing you in Wagga in June for this exciting event!
2021 Charles Sturt University 3MT Competition - Final
An 80,000 word PhD thesis would take 9 hours to present. We are giving our doctoral candidates just three minutes to explain their research topic. Hard to believe right…
The 3MT Final was held on 23 June 2021 at the Charles Sturt University Riverina Playhouse in Wagga Wagga.
The recording is now available to view.
What support was available in preparation

The Academic Literacy Coordinator and the Professional Development team from the Office of Research Services and Graduate Studies ran a series of workshops this year to help interested persons prepare for their 3MT presentation pitch and slides.
Here is a brief summary…
17 March

3MT – A panel of finalists share their experience
Hear about experiences from previous 3MT finalists.
(2 hours, 0900-1100 AEST) https://charlessturt.zoom.us/meeting/register/u5Ekc-6hqD8tGtTDFPkvaCleHmIMk7D6kOcj

26 March

Research Pitching Skills
Specifically for candidates who are considering entering the 3MT competition
(2 hours, 1300-1500 AEST) https://charlessturt.zoom.us/meeting/register/u5Asduytqj4sEtdGHX88gdmS2A9A3zIZ28qQ
3MT Training Cafes
These workshops are for people who registered for the 3MT competition to hone their presentation and presentation skills.
Here is a brief summary…
7 April

3MT Training Café 1 – Create a winning pitch
A workshop focussing on 3MT skills and the opportunity to start to work on creating your own winning pitch. (2 hours, 0900-1100 AEST)

https://charlessturt.zoom.us/meeting/register/u5wpcequpzgsHd3naO5Isx5faYFQ2LX_sS0R

9 April

3MT Training Café 2 – Pitch to persuade
This interactive workshop, facilitated by Dr Peter Copeman. Learn about story telling, slide design,
performance craft, connecting with an audience and get some great feedback. (3 hours, 1000-1300 AEST). https://charlessturt.zoom.us/meeting/register/u5wvceuorjIoGN1n-ww3jz9y-OhmA2a1kSl8

30 April

3MT Training Café 3 – Scripts in progress
Bring your best draft of your pitch and slide, share it and receive feedback from Peter and from other group members. (3 hours, 1000-1300 AEST) https://charlessturt.zoom.us/meeting/register/u5Yrfu6hrzkjG9NXvlTJdalaX6G7AHRYGLRR

21 May

3MT Training Café 4 – Presentations in progress
This session is the final and this one is GOLD! Come with your best, fully prepared presentation,
including your slide. (3 hours, 1000-1300 AEST) https://charlessturt.zoom.us/meeting/register/u5wuduqrqD4sHdDeJ_bgDBKj4U3pq_hTjaRN
Useful links
Testimonials
From Michelle Toutounji, the 2018 Charles Strut 3MT winner about what participation in the 3MT meant to her:
"Today, there is growing scepticism of science. Scientific progress has allowed us to live longer and more comfortable lives, but amazingly a large proportion of the public has a negative perception of science. As scientists, we need to do a better job of promoting ourselves and our work. The three-minute thesis (3MT) competition is all about effective scientific communication and building trust in scientists.
As a predominantly detail-oriented person, this competition gave me the opportunity to exercise my right brain. While I was writing my speech, I was able to take a good step back and see the big picture impact of my research. This helped me articulate how my research can help the everyday person. I can't stress how much easier it is to answer a friend or family member when asked what my PhD project is all about.
I highly recommend participating in the 3MT competition. I was a last minute sign up and didn't think I would get very far. But with enthusiasm and lots of practice, I got to represent CSU in the Asia-Pacific Finals. I'm now more confident with public speaking and the whole experience was really fun".
We look forward to your involvement in this exciting initiative.
Further Information
Please contact the Charles Sturt 3MT organisers via CSU3MT@csu.edu.au
Competition Rules
Candidates MUST have had their candidature confirmed/passed their endorsement of candidature milestone to be eligible to enter.
One PowerPoint slide only (no animations or slide transitions allowed)
No additional media is allowed (e.g. audio or video files, paper hand-outs)
No additional props are allowed (e.g. costumes, instruments, tools or equipment)
Presentations are strictly limited to 3 minutes maximum. Presentations over 3 minutes will be disqualified.
Judging Criteria
At every level of the competition each competitor will be assessed on the two judging criteria listed below. Please note that each criterion is equally weighted and has an emphasis on audience.
Comprehension and content
Did the presentation provide an understanding of the background and significance to the research question being addressed, while explaining terminology and avoiding jargon?
Did the presentation clearly describe the impact and/or results of the research, including conclusions and outcomes?
Did the presentation follow a clear and logical sequence?
Was the thesis topic, research significance, results/impact and outcomes communicated in language appropriate to a non-specialist audience?
Did the presenter spend adequate time on each element of their presentation - or did they elaborate for too long on one aspect or was the presentation rushed?
Engagement and communication
Did the oration make the audience want to know more?
Was the presenter careful not to trivialise or generalise their research?
Did the presenter convey enthusiasm for their research?
Did the presenter capture and maintain their audience's attention?
Did the speaker have sufficient stage presence, eye contact and vocal range; maintain a steady pace, and have a confident stance?
Did the PowerPoint slide enhance the presentation - was it clear, legible, and concise?
Judging criteria taken from the official 3MT(c) handbook.
Congratulations to 2020's finalists!
Congratulations to all finalists in Charles Sturt University 2020 Three Minute Thesis competition.
Winning the Judges' Choice was Jennifer Schwarz from the Faculty of Business, Justice and Behavioural Sciences / School of Psychology and who will compete at the UQ final in Brisbane.
| Presenter | 3MT Presentation |
| --- | --- |
| Jennifer Schwarz - School of Psychology | Understanding and supporting adults who ask 'Am I Autistic?' |
| Mandy Cooke - School of Education | It's not just physical: Understanding risk-taking in early childhood education |
| Tabita Tan – School of Animal and Veterinary Sciences | Saving the goats: Why we need an outbreak response plan for Q fever |
| Debra Metcalf - School of Psychology | Defining our foods for the future |
| Jonathan Hewis - School of Nursing, Midwifery and Indigenous Health | Surviving the tunnel: The lived experience of distress in Magnetic Resonance Imaging |
| Mitchell Kunnen – School of Exercise Science, Sport & Health | Determining psychological readiness after ACL injury |